Welcome to our Site:
This section of our site is about firearms . . .
Our Constitutional Right to Bear Arms, Home & Self Defense, Shooting Sports a

nd of course, guns.
All images were created by us, unless otherwise noted, so please respect our right to them and do not duplicate them in any way without permission - all images should be considered as copyrighted.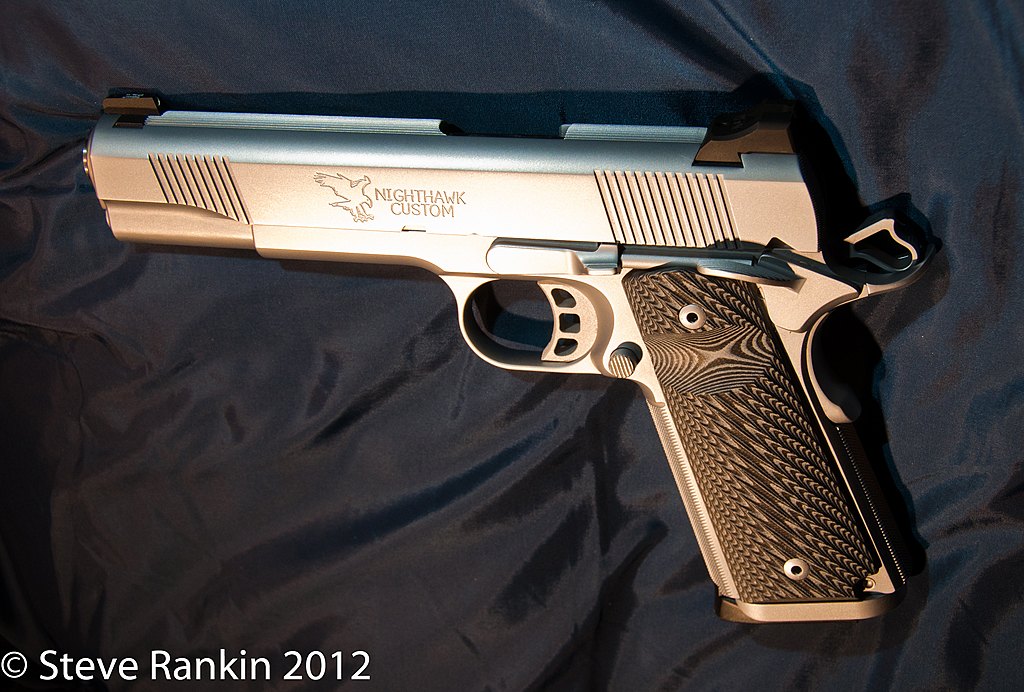 About Guns . . .



Some folks think that guns are a problem, and that the solution is gun control, or outright abolition of guns wherever possible.

The truth is that guns are not the problem. Guns are merely tools. Some folks use their guns as tools to hunt, some use them for sport, and some use them for self-defense because a fact of life is that there are bad guys out there that use guns as tools of destruction.

You may enjoy reading David Grossman's excellent essay on the subject On Sheep, Wolves, and Sheepdogs - Dave Grossman

"To protect the sheep you got to catch the wolf, and it takes a wolf to catch a wolf."
---
AFew of Our Personal Favorites
Gun Porn

(aka gun photos)
Follow Elmer to see the whole collection

1911's - the Heart & Soul

Nighthawk Custom - Talon
45 ACP
Forget modem production lines - this custom 1911 was built by a single Master Pistolsmith. The Talon includes all the bells and whistles that are popular on high end 1911's, plus Heine Slant Pro Straight-8 night sights and a gorgeous hard chrome finish. Government model with 5" barrel.
An exceptionally fine example of the classic 1911 - this gun is a shooter in IDPA competition.
Nighthawk Custom - Dominator
9mm Luger
A lovely 1911 in 9mm Luger - perfect for IDPA competition.
Black Nitride slide over stainless steel frame with deep red Cocobolo half-smooth grips.
One sweet 1911.
Ed Brown Special Forces
45 ACP
Unlike most gunsmiths, Ed Brown makes only one grade of gun - the best. Built for pure performance and extreme use, the new Special Forces pistol from Ed Brown has everything anyone needs for serious work.
The all-stainless Special Forces Carry is a serious heavy-weight defensive pistol.
Sig 1911 Ultra Nitron
45 ACP
Sig's answer to the Officer-size 1911. A 3.25" bull barrel pistol with all the modern 1911 enhancements: upswept beavertail, grip safety with memory bump, full-length guide rod, 3-hole trigger, night sights, and front strap checkering,
Small, light, accurate & easy to shoot well.
Dan & Wesson Guardian
9mm Luger
Dan Wesson's Commander size 1911 for concealed carry. The steel slide wears Dan Wesson's proprietary ceramic black "Duty Finish" while the black anodized alloy frame is fitted with several Ed Brown components, such as the Ed Brown bobtail. As reliable as any 45ACP 1911 we've ever tried.
The "His" version wears thin White Cocobolo grips and stainless controls.
Dan & Wesson Guardian
9mm Luger
His Guardian was such a sweet pistol she had to have one of her own.
The "Hers" version wears custom Black & White Ebony grips by Sarge's Grips.
Dan & Wesson Pointman 9
9mm Luger
Dan Wesson's reputation as the finest production 1911 is reflected in the Limiter Production Pointman 9, aka the PM9. An obvious choice for the discriminating enthusiast that doesn't want to spend the big bucks on a semi-custom.
Her PM9 wears a pair of slim Buckeye Burl grips by Sarge's Grips - stunning!
Dan Wesson CCO Bobtail
45 ACP
An exquisite 1911 optimized for carry
Commander slide on bobtailed alloy Officer frame - only 33.5 ounces loaded. A very nice carry version of the 1911.
Springfield 1911-A1 "Trophy Match"
45 ACP
Stainless steel hand-fitted match pistol.
Conversion to a 'Bobtail' by the Springfield Custom Shop meant losing the OEM magwell, but it fits the hand so much better. Wearing the standard double-diamond cocobolo grips.
My first 1911 goes soft in semi-retirement with an Ed Brown bobtail.
Springfield 1911-A1 "Trophy Match"
45 ACP
The same 1911 pistol as the one on the left, but in "race trim" with the TRP G10 grips instead of cocobolo.
My most accurate production pistol shoots 1.25" groups at 25 yards.
Dan Wesson CCO Bobtail
45 ACP
An exquisite 1911 optimized for carry
Commander slide on bobtailed alloy Officer frame - only 33.5 ounces loaded. A very nice carry version of the 1911.
Smith & Wesson SW1911SC
45 ACP
Smith & Wesson's interpretation of the Colt Commander with a round butt for concealed carry and greater comfort. A stainless steel slide with 4.25" barrel on a lightweight Scandium alloy frame. An exquisite 1911 optimized for carry
The "Hers" version of this lovely 1911.
Smith & Wesson SW1911SC
45 ACP
Identical to the Smith & Wesson on the left, except for the black Melonite coated slide.
The "His" version.
Mossberg 590-A1 - MilSpec heavy Barreled version. The ubiquitous 12 gauge Pump Shotgun
Enhanced with a pneumatic collapsible stock with pistol grip makes. Some states label this an 'assault rifle' because of the pistol grip & collapible stock. The pitsol grip is neither here nor there, and the stock simply makes it easier for a woman to shoulder what would otherwise be too long, plus it cushions the substantial recoil of the shotgun.
Ruger 10/22 Carbine
22LR
Fun target rifle with either red dot sight or scope.
Ruger Gunsite Scout Rifle
.308 Win


The ideal "fighting carbine" in .308 Winchester that is a credible rendition of Col. Jeff Cooper's Scout Rifle concept. Cooper called for a relatively lightweight, hard hitting, do-all rifle that in the hands of an accomplished shooter was able to place accurate, sustained fire out to long ranges, yet was quick-handling and light enough for all-day carry.

Smith & Wesson M&P15 Sport
5.56 NATO


A basic version of the popular AR15, reasonalbly equipped for 3-Gun Competition, defense and general target shooting.

Marlin 1895 GBL "Guide Gun"
45-70 Government9mm Luger
If you ever think you just might be facing a Grizzly bear, this is

the

gun to have, loaded with Garrett's 540gr Hammerhead round. The only other reason to have one is cause it looks so cool. Sort of like Steve McQueen in the Rifleman, only bigger and badder.
---