"Pilgrim" our Willard 30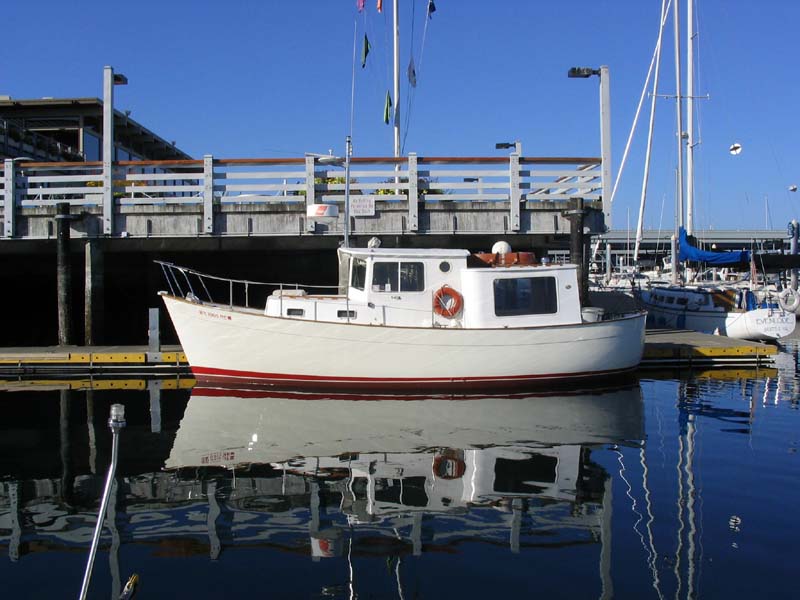 Built in 1974, Pilgrim is a full displacement troller. Most folks think she's a trawler, but it's more accurate to describe her as a troller. She was built to travel slowly, but very efficiently. She cruises easily at about 6 knots and has a top speed of about 6.5 knots. She was re-powered in 2003 with a 40 horsepower 4-cylinder Westerbeke diesel.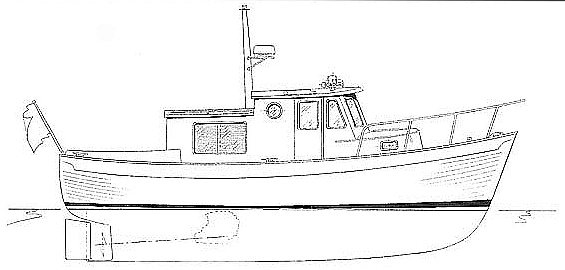 Specifications:
| | |
| --- | --- |
| LOA | 30.0 feet |
| LWL | 27' 6" |
| Beam | 10' 8" |
| Draft | 4' |
| Displacement | 16,000 pounds |
| Fuel | 100 gallons |
| Range | 1200 miles at 4 knots |
| Fresh water | 100 gallons |
Click on one of the thumbnails to view the full size images
Here's a picture of Pilgrim just after we hauled her with our F350 PSD. She pretty much dwarfs that big pickup, huh?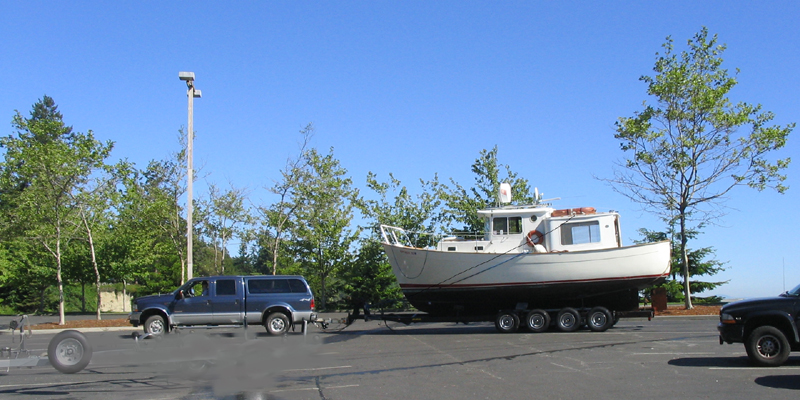 Willard History
Provided by Patrick Gerety, Willard Marine, April 2003

======================================================

Here is the Vega history as related to me by company officials who were with Willard Boat Works at its inception.

Bill Tighe (pronounced "tie") started what eventually became Willard Boat Works, and later Willard Marine, in a vacant lot in Costa Mesa, CA in the 1950's. Bill's trusted right hand man, boat right, and confidant was Willard Buchanan. Bill eventually named his company after his friend.

In the late '50's a fellow by the name of Ramsey Armstrong approached Bill with a set of plans for a 36 foot trawler that he paid Bill Garden to design. Ramsey owned a company called Vega Marine in Southern California which was primarily a marketing firm. It was sort of like PAE (Pacific Asian Enterprises), the marketing firm for Nordhavns. PAE designs the boats and then contracts with other companies to build them. They don't actually build any boats. This is the same way that Vega Marine operated.

Ramsey contracted with Bill Tighe to build the Garden 36 which was called the Vega 36 as a result of Ramsey's company name. After a few years and several complete boats, Ramsey tired of the project and sold the hull mold (which was built by Bill Tighe but Ramsey owned the rights) to Bill. Bill continued to build the boat (in three different models) and marketed it through his own company, which was then called Willard Boat Works, as the Willard Vega 36.

The Willard Vega 36 project ended in 1970. In 1972, Willard Marine started building a 30 foot trawler in five different models – Searcher (fish boat style), Nomad (Sedan), Horizon motorsailer), Voyager (pilothouse) and Sailboat (cutter rigged). In 1973, a 40 foot trawler in three different models was started – Nomad (flybridge sedan), Voyager (pilothouse), and Motorsailer. It was convenient to keep the Vega designation for continuity and so the boats became the Willard Vega 30 and the Willard Vega 40. All of these Vega boats had solid fiberglass hulls with fiberglass over plywood topsides.

Around 1975/1976 Willard Marine decided to update its tooling with cored fiberglass topsides. Some styling changes were made to the topsides when the tooling was made. Only one model of the 30 was offered at that time, the Willard 30 Flybridge Sedan (sometimes called the Willard 30/4). Two models of the Willard 40 were offered, the W40 Flybridge Sedan and the W40 pilothouse. At that time, 1975/76, the Vega designation and model names were dropped to reflect the new direction of Willard Marine.

In 1999 a Willard 30 Pilothouse was added and in 2001 a new, redesigned Willard 40 Pilothouse.

Note: On September 8, 2004 Willard discontinued production of all pleasure vessels to concentrate on building vessels for the Navy and Homeland Security.
Link to more Willard 30 pic & info