West Sequim Bay Road
The Southern elevation
then, there is the "Winter" elevation [Jan 3, 2004; 23.7F @ 1pm, wind 22 knots]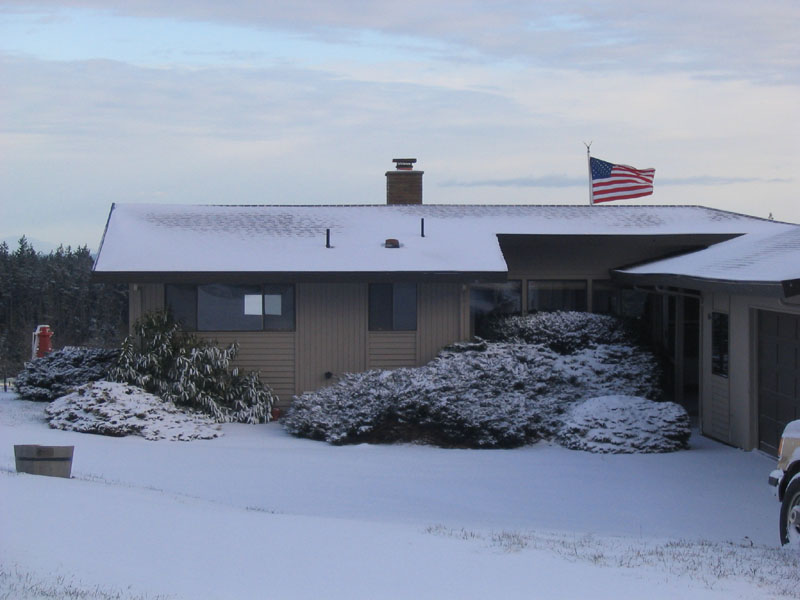 And the views . . .
Pictures of our new home with us "settled in"

Pictures taken during that "fun" interim period between arriving with our stuff and being settled in

The original pictures taken the day we bought it

A few images of the views from our property

links to interesting places in and around Sequim

Finally! Some pix of our new place as it actually is with us living in it.
A few images of the views from our home
Looking north at sunset. Protection Island in the foreground, the San Juans in the background

Sequim Bay to the east--the view from our dining room, kitchen, laundry room and den.

Protection Island to the north

The moon over Sequim Bay
Our yard and orchard on the north side. Taken from the deck outside the living room.
Just another boring picture of the view of Sequim Bay from the 6' wide kitchen window.
Sunrise over Sequim Bay.

Looks like it might be raining east of us

Mount Baker is to the NE

Mt. Constance, 7743 ft 21 miles to the south in the Olympic National Forest

Deer in the orchard.

Sunrise over Sequim Bay

Rainbow over the Straits of Juan de Fuca

Our first snow. Unfortunately, we slept through most of it!

A few Roosevelt Elk in our front yard. This pic was taken by a neighbor last year. Click here for more info on the local elk herd.

Map Showing location (see green arrow) & range of elk herd


Mt Baker on New Years Day 2008
These two are links to MPG files

A panoramic sweep of our neighborhood, starting from the west

Snow covered mountains of Olympic National Park in November 2003
Our newest additions . . .
2004 Ford F350 Crew Cab Diesel pickup "Freddie"
2004 Ford Expedition "Eddie Bauer" "Eddie"
2004 Holiday Rambler 29FKS travel trailer "Ready"
isn't that just too cute!

Here's our rig that we planned on taking to Alaska, except the week before we left we replaced the 3/4 ton Suburban 4X4 with a new Ford F350 Diesel 4X4. The diesel saved us almost $2000 in fuel for that one trip! The image above is our new rig.

Our Willard 30, "Pilgrim" (she's berthed in John Wayne Marina just down the road)
| | | | |
| --- | --- | --- | --- |
| Willard 30 "Vega" with Voyager cabin design. Pix taken at Edmonds during survey | | | Rudder & shaft detail |
| Pilgrim with her original paint job. | The cozy little cockpit aft of the salon. Photo also shows the canoe stern. | Foredeck and trunk cabin. | Bow thruster detail |
| Helm & electronics on the console: GPS, Loran C, Depth | Electronics on the overhead: radar, hailer, VHF | Small folding table on the aft side of helm seat/ice box | Starboard quarter of salon showing wood stove and hatch to aft cockpit |
| Port quarter of salon. Salon is down 2 steps from pilot house. | Galley on port side of pilot house | Forward cabin & V-berth is down 2 steps from pilot house | Westerbeke 40 |
| Some neighbors help with making a new funnel for Pilgrim. That's me on the right in the barn. | Our 300CE and a neighbor's idea of a cool ride. It never occurred to me how great it would be to have a neighbor with a backhoe. | | |

Sequim events, weather and local interest

A site hosted by the Sequim Marketing Action Commitee

Sequim-Dungeness Chamber of Commerce

The official government website for the City of Sequim, WA

Clallam County Website

Jamestown S'Klallam Tribe

SíKlallam Tribe means
"The Strong People."

Washington's Oldest Continuing Festival