Ford F250/350/Excursion Wheels & Tires
Set of 4 OEM Wheels off 2004 Ford F350 with nearly new Bridgestone winter tires

Ford F250/350/Excursion Wheels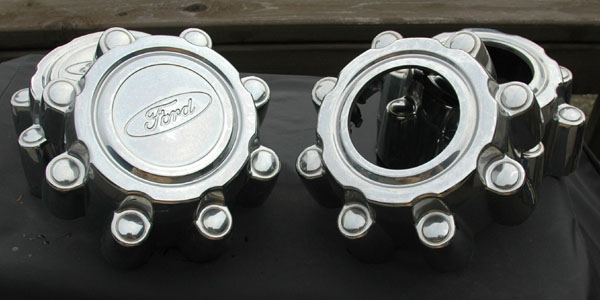 Bridgestone "Blizzak W965" LT Studless Winter tires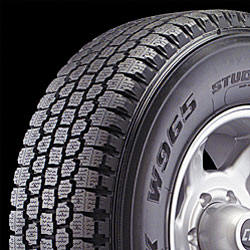 | | |
| --- | --- |
| | Studless tires - ice and snow traction without the hassle studs. The traction they have on ice--yes, ice--is phenomenal. |
| | Almost 80% of the tread remains! Approximately 11/32's tread remaining (14/32's new), so there are many miles left on these tires. |
| | Mounted and balanced - just put them on your vehicle |
| | Quiet & smooth ride - good enough for summer use! |
| | Stock Factory Size: LT265/75R16 Load Range E |
| | Bridgestone's largest capacity studless winter tire on the market!! 3415 pounds per tire @ 80 psi |
We used these tires & wheels in the winter only on our 2004 Ford F350 since we had another set of wheels with Pirelli summer tires for summer use. Amazing traction on ice and snow covered roads! Tire tests say they're better that studded tires, yet without the hassle and noise. Even quieter than conventional snow tires.
Individual pictures of each tire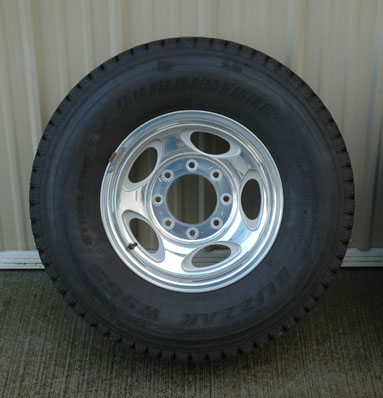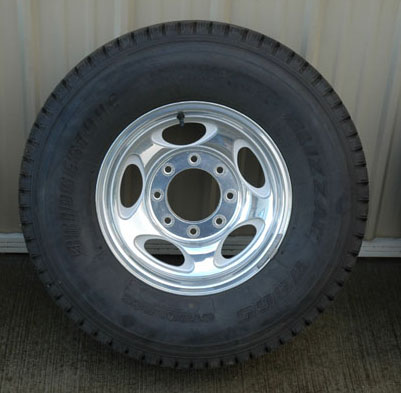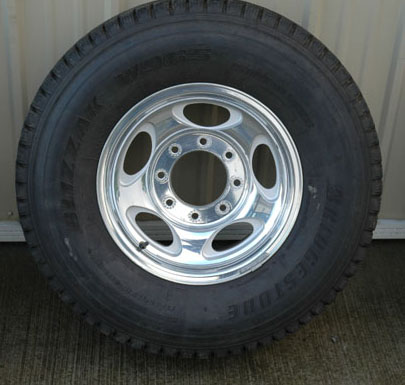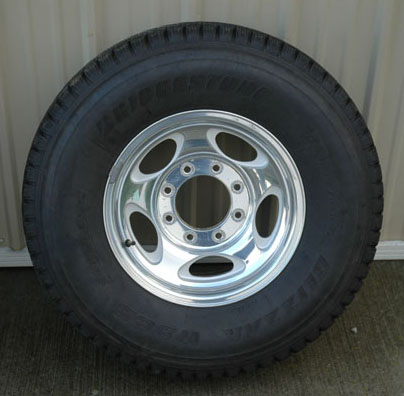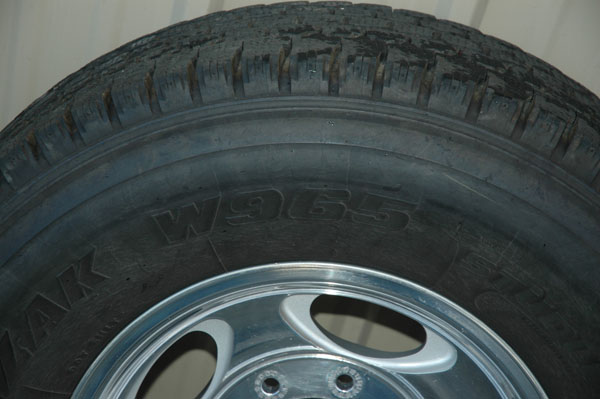 W965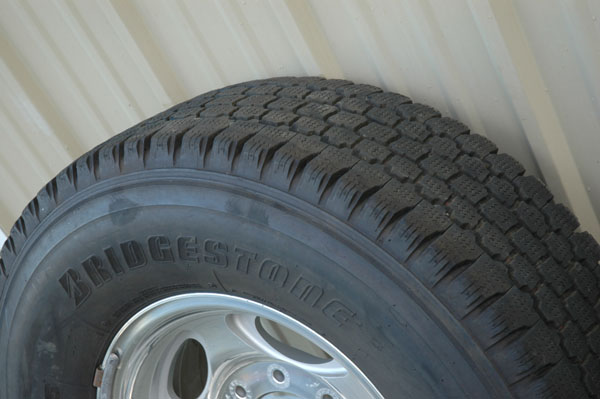 How much tread is really there?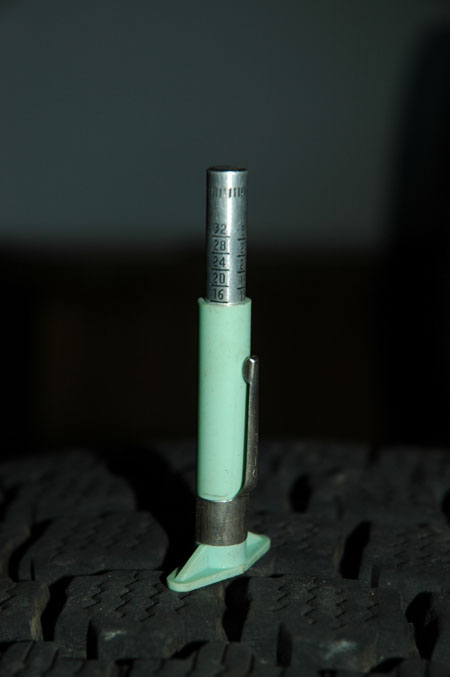 16/32" measured on all four tires.
A new Blizzak measures 18/32" so these are nearly new!!
| | |
| --- | --- |
| | Come snow or ice, the Blizzak W965 with UNI-T is built for business as usual, to keep commercial light trucks and vans on the move in winter weather. The combination of UNI-T technology and special tread blocks deliver sure-footed traction so you can count on meeting your schedule. |
CO-CS - Innovative Tire Design
Improves handling in wet or dry conditions and reduces irregular treadwear by combining the ideal tread design, casing shape, materials, and construction.
O-Bead - Innovative Roundness
Rounder overall tire shape provides better balance for wet or dry handling.
L.L. Carbon - Innovative Compound
Improves tire wear while enhancing wet performance, utilizing a special form of molecular re-engineered carbon black.
TUBE MULTICELL Compound
Improves ice performance in slippery conditions.
Zigzag Sipes
Contribute to upgraded traction on ice through better drainage and edge effect.
Spiral Wrap
Provides a higher level of uniformity while helping the tie hold its original shape.
Severe Snow Performance
Meets the severe snow service requirements of the Rubber Manufacturers Association (RMA) and the Rubber Association of Canada (RAC).



Blizzak W965 with UNI-T studless light truck winter tires were developed to combine good snow and ice traction with commercial light truck load carrying capacity. Available in Load Range E (10 Ply Rated) sizes, Blizzak W965 tires are for the drivers of most medium-duty, heavy-duty and commercial light trucks that require winter driving traction on dry, wet and snow covered roads.
The Blizzak W965 winter tire's overall combination of capabilities is made possible by Bridgestone's UNI-T technology that brings advanced tire technologies together, taking performance to a new level. Innovative tire design, construction and tread compound help maximize the tire's performance, ride quality and wear while providing traction in winter.
On the outside, Blizzak W965 studless winter tires feature a special Tube Multicell tread compound that combines microscopic pores and circumferential micro channels to help disperse the thin film of water that is generated when driving in snow and over ice. The Blizzak W965 features a deep, independent block tread design that employs zigzag sipes to provide multiple biting edges in the tread blocks to further enhance winter traction without resorting to traditional metal studs. On the inside, the tread area is supported by three steel belts reinforced by spiral-wrapped nylon to provide a higher level of tire uniformity while maintaining its shape at highway speeds. A polyester cord reinforced casing provides strength and durability while enhancing ride quality.
Blizzak W965 winter tires meet the industry's severe snow service requirements and are branded with the snowflake-on-the-mountain symbol.
NOTE: The top 55% of the Blizzak W965's useable tread depth consists of the exclusive Tube Multicell tread compound. The remaining 45% consists of a standard winter tread compound. Snow platform indicators (the equivalent of "snow wear bars") are molded into the tread grooves.
---
Questions? Please email me before you bid with any questions regarding this item or shipping.
---
Shipping
Shipping & insurance is buyer's responsibility. Wheels with mounted tires will be shipped individually.. Each wheel will be covered on the finished side to protect the finish. Approximate weight of each wheel & tire assembly: 75#.
The eBay shipping calculator will only estimate the shipping cost for 1 wheel/tire. Multiply the calculated shipping by 4 for the total cost of shipping this set of 4 wheels & tires.
Local pickup OK.